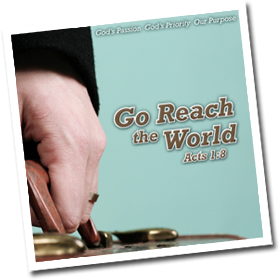 We believe that the heartbeat of God is "Missions." Therefore we believe that missions should be one of the primary emphasizes of our church. We seek to accomplish this by giving to missionaries through "Faith Promise." At the current time, Immanuel Baptist Church supports over 30 church planting Independent Baptist Missionaries.
One of the highlights of our year is our Annual Faith Promise Missions Conference. Our conference always concludes on the first Sunday of March, as we determine how much we will give the following year to missions through Faith Promise. The following should explain more fully how our Faith Promise program works, as well, as the function of the Annual Faith Promise Conference.


Faith Promise Missions
The Faith Promise plan of missions giving is a scriptural and systematic method to support world evangelism through the local church.
Each individual makes a promise to God alone that they will give a certain weekly amount to missions throughout the year. (This amount is determined by realizing one's responsibility to world evangelism and praying for God's direction as to how much they should give.)
Each individual steps out by faith in giving his weekly promise, trusting God to supply his needs.
The Faith Promise is a statement of intention and not a pledge made to the church. Each individual is asked to record the amount of his faith promise on a card, which will be turned in at the end of each service during the conference without the individual's name. This enables our church:
To have a better basis on which to estimate its probable missions receipts for the year
To add more missionaries to its monthly support
To fulfill the great commission by going to "all the world" to preach the gospel (Mark 16:15)